Details

Hits: 3932
No one, not even Mother Nature, could prevent Miguel Cabrera from hitting his 400th career home run Saturday. Cabrera went deep to center field against Tyler Lyons in the bottom of the top of the first inning at Busch Stadium, giving himself 400 career homers, and giving the Detroit Tigers a 1-0 lead against the St. Louis Cardinals.
Cabrera's celebratory round-number blast went 428 feet, and probably dodged rain drops as it flew into the stands. The game was delayed in the bottom of the first, but it resumed and the Tigers won 4-3 in 10 innings.
Watch the big homer go:
Cabrera is the second member to join the 400 HR club since Friday night, when Adrian Beltre of the Rangers went deep. What are Cabrera's chances of hitting 500, 600 or 700 homers? At age 32, Cabrera hitting 500 home runs are a near certainty — 97 percent — based on the Bill James' Career Assessments projector. Using James' methods, Cabrera has a 45 percent of hitting 600 home runs, and even a 13 percent chance of reaching 700.
Thanks to Baseball Reference, here are details on every one of Cabrera's career home runs(aside from No. 400). He's victimized everyone from Al Levine to Bruce Chen and Phil Hughes five times apiece. This CBS graphic captures the spirit of Cabrera's prodigious power: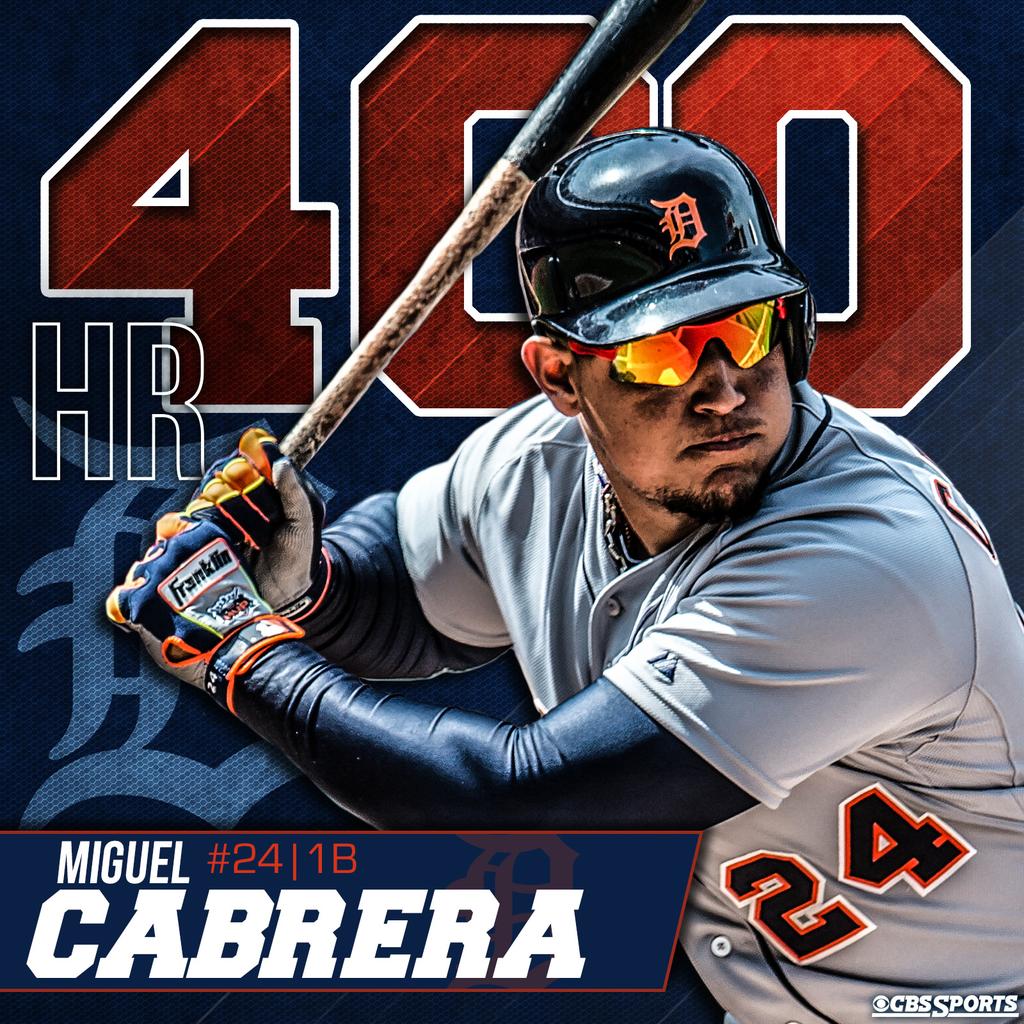 For a treat, check out Cabrera's first home run, hit in 2003 with the Florida Marlins, and which won a ballgame:
He was so (relatively) lean back then. Cabrera came up as an outfielder/third baseman after playing shortstop in the minors (if you can believe it).
More milestones are likely, though Cabrera has a recent history of nagging injuries, along with a pudgy physique that makes you wonder how long he can play. But he hasn't missed many games in his career, and he loves to play. And having the DH will help him going forward.
Who might be next to 400? Carlos Beltran (375) and Mark Teixeira (374) of the Yankees arenext on the list, and Teixeira has been swinging the bat like he could do it this season. Aramis Ramirez has 372, but has said this is probably his final season, so he seems a long shot. Ryan Howard of the Phillies, at 341, is a good bet to make it within the next two or three seasons.
Prince Fielder needs seven more home runs for 300.
By David Brown | Baseball Writer
Details

Hits: 3741
If not for the fan who leaned over a railing in the upper deck and caught, bare-handed, a home run hit to center by Giancarlo Stanton, there's no telling how far the ball might have gone. Stanton's blast to center in the third inning Saturday traveled an estimated 478 feet at Marlins Park, Miami's highlight in a 5-3 loss to the Braves.
Watch it leave Stanton's bat at 110 mph with Alex Wood on the hill:
And check out our Marlins fan who stopped it cold:
Otherwise, it probably lands on the concourse, at least 500 feet away from home plate. He robbed Giancarlo Stanton of a 500-foot home run (in a way).
Just yesterday, Stanton hit a home run said to have gone 474 feet to center at Marlins Park that landed inside of the center-field TV camera booth. Now, the one Saturday missed the camera area high and, presumably, was farther from home than a mere four feet extra. Who are the nanobots counting these distances anyhow?
No matter what they are measured, nobody is hitting them with the kind of length that Stanton is. He's got three of the top five longest home runs in the majors so far in 2015. And nobody hits them as hard: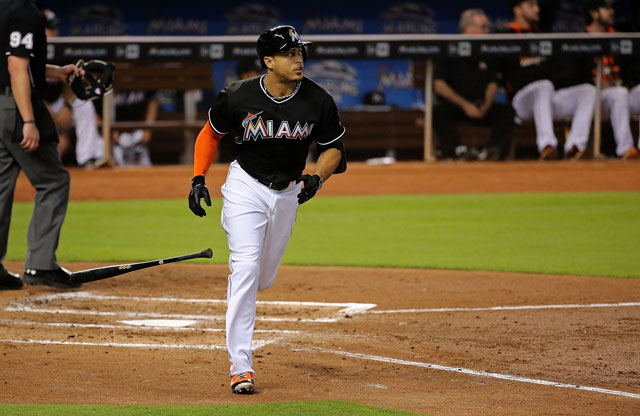 Giancarlo. He's the longest. (Getty)
By David Brown | Baseball Writer
Details

Hits: 3367
MIAMI -- The Marlins' incomparable slugger Giancarlo Stanton launched a drive that appeared headed for the Florida Keys before some brave and athletic goofball fan reached out over the railing high above the concourse here and snared it one-handed as it flew to Section 134 in straightaway center field. It was very likely the longest dinger on Stanton's impressive resume and possibly the longest or close to the longest since Mickey Mantle memorialized Washington's since-demolished Griffith Stadium 62 years ago with his famous record 565-foot drive.
No one needed a tape measure to know Stanton's shot would have touched down well more than 500 feet from home plate as it still had plenty of carry when it was caught by some circus act of a fan just to the left of a sign marked "502" in a section of relatively cheap seats that seem an area code away.
The assumption has been that the "502" marker is only there for fun, and that it would never realistically be visited by mere mortals wielding a stick, certainly not inside a closed dome in a park well-known to be incompatible with long balls. But Stanton's drive was all of that and more on a day where he continued his streak of recent tape-measure drives hit 1,500 feet of fly balls easy.
But beyond the continuing exploits of Stanton (the league's RBI leader) and little, delightfulDee Gordon (the league's hits and batting average leader), the Marlins aren't catching many breaks lately. And MLB's even new Statcast feature surely shortchanged them. Statcast put Stanton's drive at 478 feet, which may have accounted for all but the last 10 percent of the actual distance. That's a number that stands as nothing more than proof that computers are fallible, too.
"There's no way that ball's less than 500 feet," Marlins pitcher Dan Haren said.
"I discredit all data," Haren added, understandably.
Statcast is supposed to bring precise data to the big leagues, and perhaps it works for exit velocity and running speed. But maybe it doesn't account for a hungry Marlins fan with his paw out, about 30 feet above the field.
Stanton, who has been putting on a show for days now, hit one a few days before that flew out of Dodger Stadium, only the fifth ball in the glorious history of the baseball edifice about 25 miles from where Stanton grew up in the Valley. And Stanton only the day before hit one that flew into the camera room about 20 feet below this one, the second of two drives on a day where Stanton firmly established that he's on a tear to be noticed.
That one, into the camera box, was scored 474 feet by Statcast, a reasonable figure. So assuming that was ballpark, this one had to be 500, plus.
"I think they're lying. That's an easy 500," Gordon said. "Ain't no way that's 478."
Nobody bought it, and nobody should have.
"No chance," the Marlins' Jeff Baker says. "The sign says 502. That's ridiculous."
So was the catch by the fan in a Marlins jersey (a more nimble Marlins Man with a worse seat) identified by MLB.com as Ryan Carlos Mont from West Palm Beach, who risked his Movado as well as his metacarpals reaching over the railing while snaring a ball that was measured at 115 mph off Stanton's bat (that measurement we'll buy, too). Mont told the Website he certainly didn't expect to be catching any home run balls up there, and Stanton himself said he's only gone there before maybe three times in batting practice, and never a game.
Speaking of ridiculous, the same might be said for Stanton's otherworldly power, which lately has been providing at least a bit of diversion from the Marlins' troubles, which include the ineffectiveness of normally reliable closer Steve Cishek before his demotion (Cishek did log two solid scoreless innings Saturday to bring his ERA down to 8.78), their fifth loss in six games overall, and their fifth straight loss to the retooling Braves at Marlins Park this year.
The home team went down 5-3 in this one, with Stanton's last fly ball, a rare one to medium/shallow center field, the last out, as he batted as the tying run. Ex-Marlins manager Fredi Gonzalez took a bit of a chance having closer Jason Grilli pitch to Stanton there; but of course bringing the go-ahead run to the plate in the ninth inning of a road game might have been slightly more ominous than even seeing a scorching Stanton up there toting his bat again.
And how hot is he? In the first two games back home, he has three homers, plus three more drives to the wall.
It seemed like the Marlins might finally be getting the break of fortuitous timing after another rough game, which included two Marlins baserunners picked off (Ichiro Suzuki andAdeiny Hechavarria), Marlins starter Mat Latos allowing a grand slam for the first home run of little Jace Peterson's career, and Latos going out of the game after being nailed on the shin by a liner off the bat of ex-Marllin Cameron Maybin (X-rays were negative, but Latos used a crutch to leave the clubhouse).
The Marlins could not have had a better threat at the plate, no one stronger, hotter or more ominous than Stanton. But Grilli, who has admirably replaced the great Craig Kimbrel as Braves closer, got Stanton on what Stanton figured was the only hittable fastball he'd see. Stanton opined Grilli wouldn't throw him another center-cut fastball, so he had to hack.
Afterward Stanton was left to talk about what might have been, the drive by him to the wall to the wall in left field that was caught in the first inning, and the one to the wall in center field that caught in the seventh inning. That second one Statcast had as a 428-foot out. But to everyone in the park that seemed about 100 feet shy of the mammoth one in the third off Braves starter and winner Alex Wood that made jaws drop from Homestead to Palm Beach and beyond.
Stanton, who's not one to talk up personal exploits -- he lets his muscles do the talking, for the most part -- had a hard time comparing his longest ever homers, the one measured at 510 feet at the All-Star game Home Run Derby at Target Field, the one off Shelby Miller that flew over the Budweiser sign that would have left Marlins Park had it been open that day, the one that was the fifth ball to leave Dodger Stadium a few nights ago, and of course this one, which most suggested was the new winner.
Stanton seemed to treat his drives like parents would treat their children in that he couldn't pick a favorite, saying only that this one was right up there, right at the top. Oh, it was up there all right. Up there until that fan in a Marlins T-shirt caught it.
The one thing Stanton knew for sure was that it wasn't anywhere near the vicinity of the computer estimate.
"That's not 478," Stanton said, agreeing with all the others. "I don't know who decided that."
Told that it was a what, and not a who, like the others Stanton mentioned the inexplicable four-foot difference between Friday night's homer and this one.
"Check it out yourself," Stanton suggested.
Happily we were there to see it, and here's how we score it: Stanton 1, Statcast 0.
Details

Hits: 3174
Detroit Tigers slugger Miguel Cabrera joined the 400 home run club Saturday afternoon, launching his landmark blast against Tyler Lyons of the Cardinals in the first inning at Busch Stadium. Cabrera is the second slugger in as many days to go 400, joining Adrian Beltre of the Rangers. What are Cabrera's chances of hitting 500 homers? They're great, about 97 percent, for the 32-year-old. How about 600? About 45 percent. Pretty good. And 700? A long shot at 13 percent, but better than zero.
Here's the 400 milestone moment:
Cabrera clobbered No. 399 against the Cardinals in a 10-4 victory at Busch Stadium on Friday night. Cabrera tied Andres Galarraga for most homers hit by a Venezuela-born player.
Cabrera told the assembled media that he never expected to hit so many homers when he started out with the Marlins in 2003.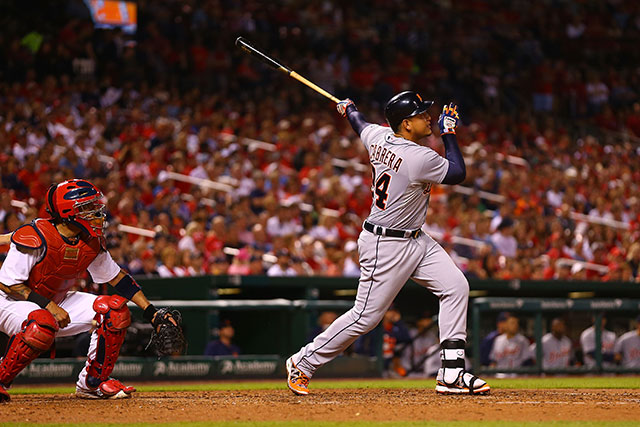 Cabrera ties 'The Big Cat' on Friday night. (Getty)
"It means a lot, though I don't play this game to be better than somebody, or to pass somebody, or to tie somebody else in home runs. I play this game for passion, for love. That's the way I play, but hopefully I can hit another home run and it will win the game."

 
Cabrera added that he'd like home run No. 400 as a souvenir. He also had a teammate collect No. 399, as well, with Anthony Gose trading an autographed ball to the fan who caught the Galarraga ball.
By David Brown | Baseball Writer
Details

Hits: 3239
Astros wielder of lumber Evan Gattis is not a player without his flaws and shortcomings. However, Mr. Gattis is more than capable of inflicting damage of unimaginable dimensions upon cowhide orbs pitched in his general direction. That was certainly the case during Saturday's game against the Blue Jays.
Shield the eyes of the impressionable and then bear witness ...
Precise distance: many very lots of feet.
Not pictured: Upon returning to the dugout, Evan Gattis secured his bat in a shoulder holster made of tanned saddle leather. It'll be there when he needs it again.
You are here:  
Home
Content
BM Articles Mega Category
Sport

Baseball