Detroit Tigers slugger Miguel Cabrera joined the 400 home run club Saturday afternoon, launching his landmark blast against Tyler Lyons of the Cardinals in the first inning at Busch Stadium. Cabrera is the second slugger in as many days to go 400, joining Adrian Beltre of the Rangers. What are Cabrera's chances of hitting 500 homers? They're great, about 97 percent, for the 32-year-old. How about 600? About 45 percent. Pretty good. And 700? A long shot at 13 percent, but better than zero.
Here's the 400 milestone moment:
Cabrera clobbered No. 399 against the Cardinals in a 10-4 victory at Busch Stadium on Friday night. Cabrera tied Andres Galarraga for most homers hit by a Venezuela-born player.
Cabrera told the assembled media that he never expected to hit so many homers when he started out with the Marlins in 2003.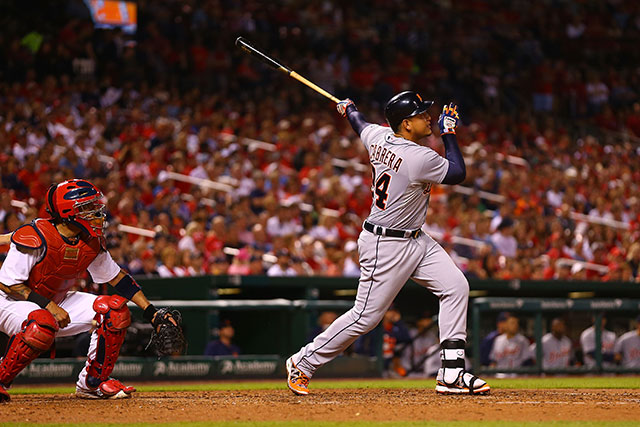 Cabrera ties 'The Big Cat' on Friday night. (Getty)
"It means a lot, though I don't play this game to be better than somebody, or to pass somebody, or to tie somebody else in home runs. I play this game for passion, for love. That's the way I play, but hopefully I can hit another home run and it will win the game."

 
Cabrera added that he'd like home run No. 400 as a souvenir. He also had a teammate collect No. 399, as well, with Anthony Gose trading an autographed ball to the fan who caught the Galarraga ball.
By David Brown | Baseball Writer
You are here:  
Home
Content
BM Articles Scrollbar Master
Films

Ender's Game (2013)