If not for the fan who leaned over a railing in the upper deck and caught, bare-handed, a home run hit to center by Giancarlo Stanton, there's no telling how far the ball might have gone. Stanton's blast to center in the third inning Saturday traveled an estimated 478 feet at Marlins Park, Miami's highlight in a 5-3 loss to the Braves.
Watch it leave Stanton's bat at 110 mph with Alex Wood on the hill:
And check out our Marlins fan who stopped it cold:
Otherwise, it probably lands on the concourse, at least 500 feet away from home plate. He robbed Giancarlo Stanton of a 500-foot home run (in a way).
Just yesterday, Stanton hit a home run said to have gone 474 feet to center at Marlins Park that landed inside of the center-field TV camera booth. Now, the one Saturday missed the camera area high and, presumably, was farther from home than a mere four feet extra. Who are the nanobots counting these distances anyhow?
No matter what they are measured, nobody is hitting them with the kind of length that Stanton is. He's got three of the top five longest home runs in the majors so far in 2015. And nobody hits them as hard: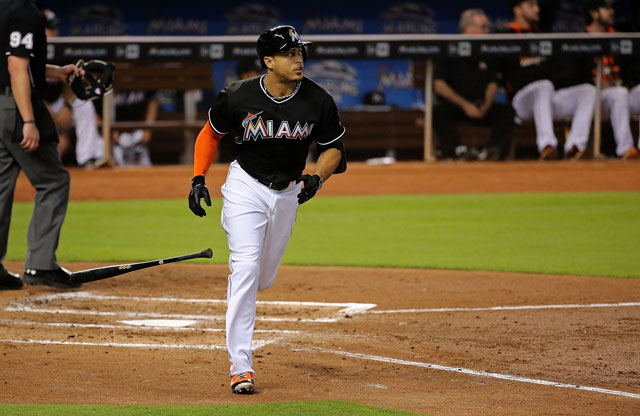 Giancarlo. He's the longest. (Getty)
By David Brown | Baseball Writer
You are here:  
Home
Content
BM Articles Scrollbar Master
Sport
Baseball

WATCH: Fan bare-hands Giancarlo Stanton line-drive home run