No one, not even Mother Nature, could prevent Miguel Cabrera from hitting his 400th career home run Saturday. Cabrera went deep to center field against Tyler Lyons in the bottom of the top of the first inning at Busch Stadium, giving himself 400 career homers, and giving the Detroit Tigers a 1-0 lead against the St. Louis Cardinals.
Cabrera's celebratory round-number blast went 428 feet, and probably dodged rain drops as it flew into the stands. The game was delayed in the bottom of the first, but it resumed and the Tigers won 4-3 in 10 innings.
Watch the big homer go:
Cabrera is the second member to join the 400 HR club since Friday night, when Adrian Beltre of the Rangers went deep. What are Cabrera's chances of hitting 500, 600 or 700 homers? At age 32, Cabrera hitting 500 home runs are a near certainty — 97 percent — based on the Bill James' Career Assessments projector. Using James' methods, Cabrera has a 45 percent of hitting 600 home runs, and even a 13 percent chance of reaching 700.
Thanks to Baseball Reference, here are details on every one of Cabrera's career home runs(aside from No. 400). He's victimized everyone from Al Levine to Bruce Chen and Phil Hughes five times apiece. This CBS graphic captures the spirit of Cabrera's prodigious power: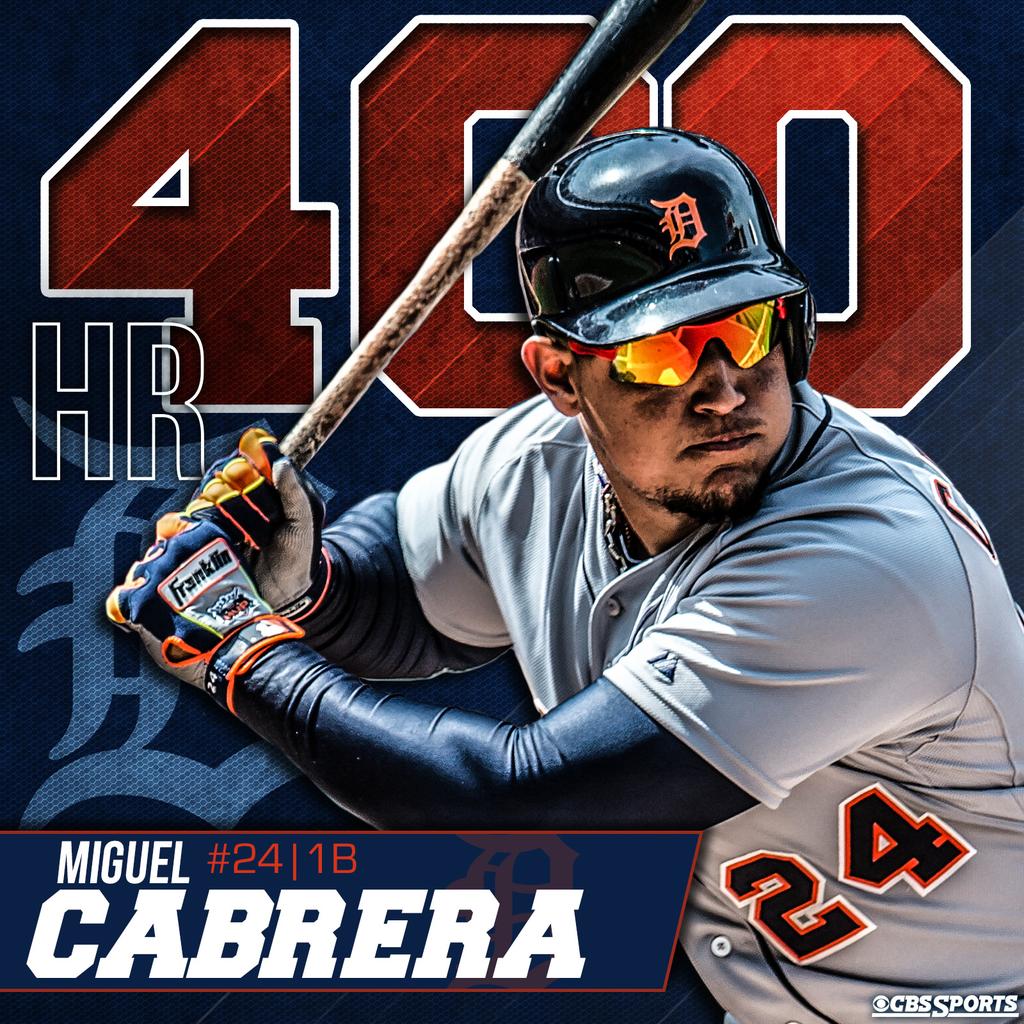 For a treat, check out Cabrera's first home run, hit in 2003 with the Florida Marlins, and which won a ballgame:
He was so (relatively) lean back then. Cabrera came up as an outfielder/third baseman after playing shortstop in the minors (if you can believe it).
More milestones are likely, though Cabrera has a recent history of nagging injuries, along with a pudgy physique that makes you wonder how long he can play. But he hasn't missed many games in his career, and he loves to play. And having the DH will help him going forward.
Who might be next to 400? Carlos Beltran (375) and Mark Teixeira (374) of the Yankees arenext on the list, and Teixeira has been swinging the bat like he could do it this season. Aramis Ramirez has 372, but has said this is probably his final season, so he seems a long shot. Ryan Howard of the Phillies, at 341, is a good bet to make it within the next two or three seasons.
Prince Fielder needs seven more home runs for 300.
By David Brown | Baseball Writer
You are here:  
Home
Content
BM Articles Scrollbar Master
News
Entertaiment

Entertaiment 10