Details

Hits: 2677
Cleveland Browns head coach Mike Pettine has been a defensive guy for his entire coaching career. He got his NFL start as a coaching assistant with the Ravens before moving up to assistant defensive line coach and then outside linebackers coach. Pettine next moved onto the New York Jets, where he was the defensive coordinator. He then held the same role with the Buffalo Bills, his last stop before coming to the Browns.
In his first season in charge of Cleveland, Kyle Shanahan was Pettine's offensive coordinator, but Shanahan left this offseason, so Pettine decided to take on a larger role in the offense this year. How's he doing it?
"I have flash cards to help me learn a lot of the formations," Pettine said Friday, per theAkron Beacon Journal. "It was like being a rookie. Give me a book, and I'd learn it just like a first-year player would learn it.
"But it's been great. I feel very rejuvenated as a coach."
Pettine said he's taking a very active role in the planning of the offense with coordinator John DeFilippo. "I'm with [DeFilippo] every step of the way as far as, 'Here's what we're implementing today. Here's what's going in,'" Pettine said. "I sit in on the install meetings, and I carry a playbook around."
Pettine has plenty to worry about with the Browns' defense, especially against the run -- though they made great efforts in the draft to alleviate those issues -- but he said he's also going to be involved with the defense on game days. "I still will be involved with the defense. But I want to be a part of the [offense's] game planning as well just to give the defensive perspective of who they're going against," Pettine said. "I have a good feel for NFL defenses having studied a lot of them or knowing the coaching trees -- and there's different styles and different rules within those -- and I think that's where I can be beneficial to [the offense]."
We'll see how this all works out for Cleveland during the season, but by drafting offensive lineman Cameron Erving and running back Duke Johnson, the Browns did manage to pick up some help for whoever winds up playing quarterback.
By Jared Dubin | NFL Writer
Details

Hits: 2744
Remember Rex Ryan's Buffalo Bills-themed truck? Well, we might just have found something that has Rex beat in the coolest team-themed vehicle contest I just invented in my head.
Check out this Minnesota Vikings-themed 1978 Harley Davidson shovelhead 1200 being sold on Craiglslist right now for $9,379.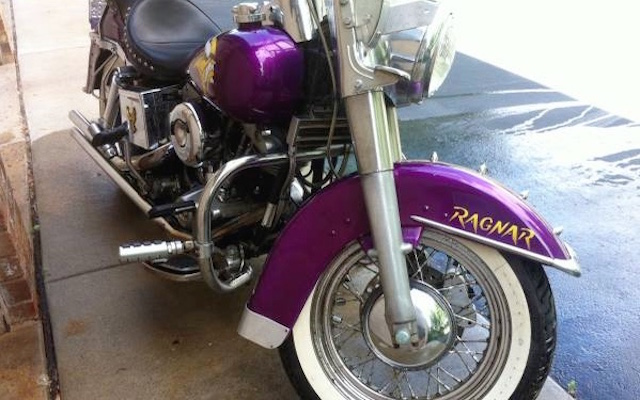 Sweet bike. (Craigslist)
Nice little Ragnar inscription there in honor of Minnesota's mascot. According to the Craigslist post, Ragnar himself actually used the motorcycle, in the Metrodome. So that's pretty cool, too. Maybe he took up motorcycle riding after trying out for the Vikes'cheerleading team last year.
By Jared Dubin | NFL Writer
Details

Hits: 2626
The Miami Dolphins got their annual Fins Weekend underway on Friday with a golf tournament at Trump National Doral Golf Course, and on Saturday, they took some fans on a huge boat for a fishing tournament.
By Jared Dubin | NFL Writer
Details

Hits: 2719
Former Australian rugby star Jarryd Hayne is in training camp with the San Francisco 49ersthis year, and new head coach Jim Tomsula couldn't possibly sound more impressed.
"Did you see him catching those punts?" Tomsula asked reporters Friday. "It's a little easier to catch a football than it is a rugby ball. If wind gets that rugby ball, that thing is zigzagging all over the place."
Tomsula added that it's still early on Hayne's camp tenure, and that where the team is currently at in their camp process still very much resembles Hayne's former profession. "You watch what we're doing here and it's still rugby. There's no pads here. He's fielding balls and running around in shorts and a T-shirt," Tomsula said. "Am I thrilled he's here? Absolutely. He's a neat dude. All that stuff is great. He's running around, learning his stuff. He's dedicated. He's committed. He's a pro."
Hayne's trying out for the 49ers as a running back, where they actually have a need for some new blood after seeing Frank Gore leave for the Indianapolis Colts earlier this offseason. Carlos Hyde and Reggie Bush are expected to be the primary ball-carriers, though, while Kendall Hunter has been with the team for a while and they drafted South Carolina's Mike Davis earlier this month as well. That means if Hayne wants to make the squad, he'll likely have to make an impact on special teams, which makes the fact that Tomsula's impressed with his punt-catching abilities slightly more important than it might seem at first glance.
By Jared Dubin | NFL Writer
Details

Hits: 2725
Pitch Perfect 2, the sequel to the 2012 smash hit Pitch Perfect, hit theaters this weekend. Making a cameo in the film are Green Bay Packers Clay Matthews, T.J. Lang, Josh Sitton,Don Barclay and David Bakhtiari.
In the film, the Packers join an impromptu A capella competition against the movie's stars, the Bellas, as well as three other groups. You can see part of their appearance right here:
Yes, that's Matthews showing off his guns (and hair) while crooning Beyonce's "Bootylicious" while the four offensive linemen back him up.
That's the quintet's only scene in the movie, but co-star Skylar Astin told Rich Eisen the Packers "approached it kind of like they were going out of the tunnel for a big game, which was very exciting. They were so pumped up about it. They were very nervous at first."
Astin later joked that once the nerves died down, the Pack became like old pros, spouting out actorly things like, "I itched my head with this hand, so I think we've got to burn that take. Don't print that one."
By Jared Dubin | NFL Writer
You are here:  
Home
Content
BM Articles Scrollbar Master
Sport
Baseball

Stanton hits shot so far it fools Statcast; Teammates: '500 (feet) easy'